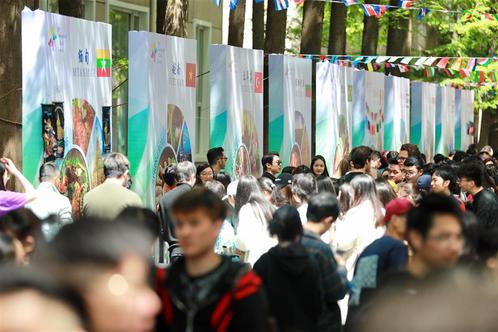 Crowds gather for the food carnival that kicked off the international culture festival at Shanghai University of Finance and Economics.
Students at Shanghai University of Finance and Economics shared food from their homelands to kick off the university's 18th international culture festival on Tuesday.
The university said it has been seeing more and more international students from countries participating in the Belt and Road Initiative since it was brought forward by Chinese President Xi Jinping in 2013.
At this year's food carnival, 26 of the 32 booths were set up by students from Belt and Road countries.
"It's exciting to participate in the food carnival every year," said Kotliar Illia from Ukraine. "We've prepared red borscht soup and roasted potatoes for our schoolmates, which are typical Ukrainian food. My friend also brought some traditional costumes and artworks from the consulate in Shanghai. We hope we can present both Ukrainian food and traditional Ukrainian culture to others."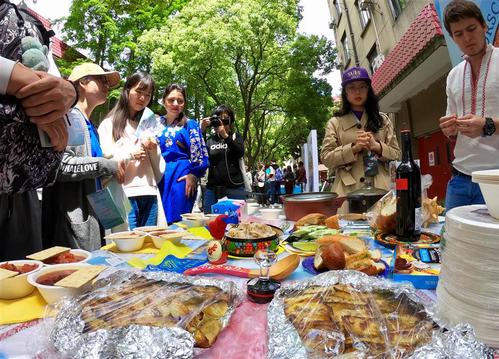 Dong Jun / SHINE
Red borscht soup and roasted potatoes were among the foods at the Ukrainian booth.
Russian students presented Olivye salad, pancakes and kompot, a non-alcoholic clear juice obtained by boiling fruits in water.
"Olivye salad is very traditional in Russia, every family makes it during the New Year celebration," said Russian student Boris Neshcheret. "Pancake symbolizes the sun in Russia, so it is one of the favorite pastries for Russians."
Malaysone Phengphet from Laos said the event was a good opportunity for her and her compatriots to introduce Lao culture to Chinese students.
"We have more than 20 students to prepare Lao-style chicken salad, which is a must during traditional festivals in our country," she said.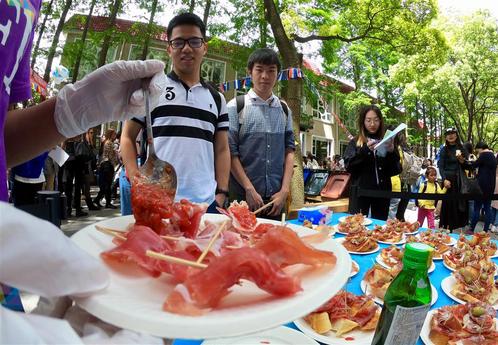 Dong Jun / SHINE
Students admire the food on offer at the Spanish booth.
Besides food from foreign countries, there are also snacks from various parts in China, such as shaqima, or caramel treats from Beijing, qingtuan, sweet green glutinous rice balls popular in regions south of the Yangtze River, and mahua, fried dough twists from Tianjin.
"I've been in China for almost one year, and it's my first time to take part in the food carnival," said Claudia Stoiberer from Austria. "I'm glad to see many Chinese foods that I have never had the chance to eat."
Over the following week, a series of events will be staged at the university for students to enjoy the cultures of different countries.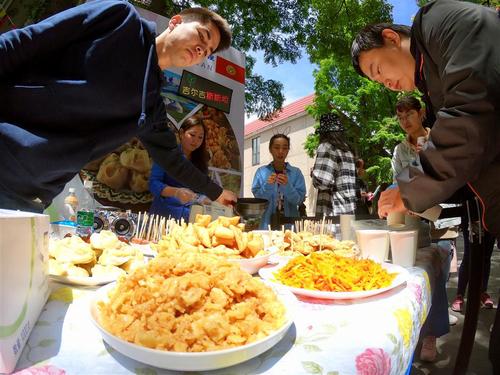 Dong Jun / SHINE
Tasty treats on offer at the Kyrgyzstan booth.
(From SHINE)